7 Questions to Ask Vendors When Choosing a Hotel Channel Manager
Thinking about choosing a Channel Management software for your property? Well, you're in the right place. In this article, we have listed seven questions that you must ask a potential provider before investing. With these key questions at hand, you can strike a good deal that is suited to your property's type and size.
Disclaimer : If you buy a third-party product or service from this website, HotelMinder may earn a commission. Our editorial team is not influenced by our affiliate partnerships.
1. Will the Channel Manager Integrate with the Property's Booking Engine?
Properties with a direct booking channel often have a good online presence and a robust return strategy. Finding a Channel Manager that integrates with different third-party channels, as well as your property's booking engine, will save you time and money.
Without this essential integration, you will have to manage your direct channels and your third-party channels separately.
To avoid the inconvenience, especially if your property is small, you can ask any potential providers if they offer an all-in-one solution. This way, you will get a Channel Manager (CM), Property Management System (PMS), and a Website Booking Engine (WBE) in one place.
2. How Many Booking Channels Can the Software Connect To?
When speaking with Channel Management software vendors, don't forget to ask this important question.
While a Channel Manager needs to connect you with all the existing and direct booking channels, it's also just as important to ask the number of booking channels with which the software can connect your property. That's because the more channels you have at your disposal, the better it is for your property and revenue strategy.
To give you an example, SiteMinder is a Channel Management vendor that connects its customers with over 400 channels.
3. Can the Channel Manager Software Update Rates Long in the Future?
A lot of travellers prefer to book hotels in advance and properties prefer these bookings as it helps them plan their finances.
When putting forth Channel Manager questions to vendors, do ask if the Channel Manager has the functionality to update rates long in the future (the longer the better!). Whatever flexibility the software can provide you with here should be considered.
Are you looking to:
Optimize occupancy, revenue or ADR?
Upgrade your software stack?
Solve a distribution or tech issue?
Improve your hotel online marketing?
Get in touch today!
Are you looking to:
Optimize occupancy, revenue or ADR?
Upgrade your software stack?
Solve a distribution or tech issue?
Improve your hotel online marketing?
Book a Meeting Today
4. Does the Software Provide a Comprehensive Revenue Report?
When you use a Channel Manager, it is to help you market your property on several different channels and get more customers in return. Therefore, it is quite important that any Channel Management software that you use gives you visibility of the overall performance.
Consider that receiving information about the channels that give you the maximum bookings, the highest cancellations, or the maximum revenue on average are data points that are non-negotiable and required when investing. This is because these pointers will give you a better idea about the avenues that are working for you and the ones you need to change.
5. Will the Vendor Offer any Training?
An important question to ask the Channel Management vendor is whether or not there is any training available? While it's always good to explore the software by yourself, understanding all its nitty-gritty requires that you connect with an expert. When choosing a Channel Manager, ensure that the provider offers step-by-step instructions on using the tool for your small mid-size or big hotel.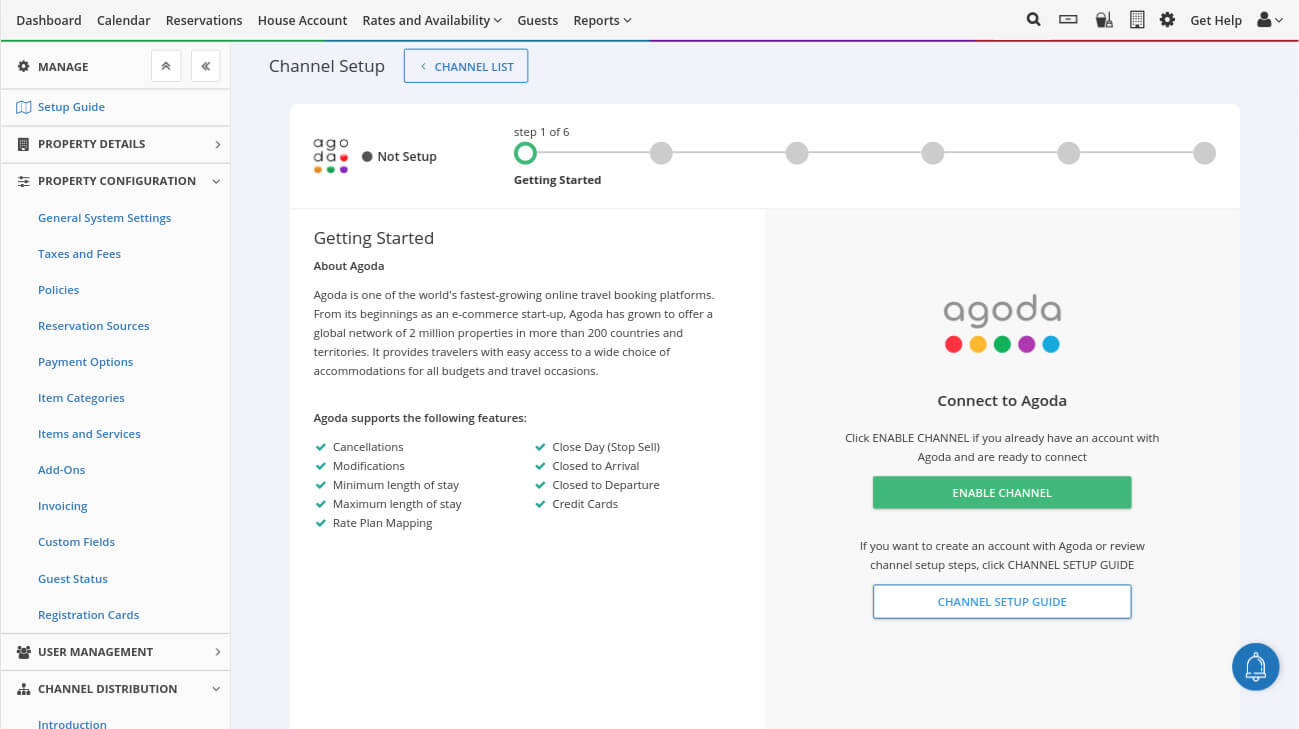 6. How Good is the Online Support Team?
Understand that there is nothing more frustrating than speaking with a customer care executive who doesn't know how to resolve your problem. Therefore, when choosing a Channel Manager, ask the vendor about the support available.
Does the software offer 24/7 customer support? Is it available in your native language? What is the main mode of communication: chat, email, or call? Asking these important questions will allow you to ascertain the amount of help you can expect in your time of need.
7. What about the Cost?
In an ideal scenario, you should opt for a Channel Management software with a plug-and-play payment plan. This way, you will only have to pay a monthly fee to get full access to the technology.
Keep in mind that this model is much better than an add-on model wherein you have to pay a fee every time you onboard a new channel to the system. Keep an eye out for providers that don't lock you in for a whole year and offer discounts or a free trial period. To learn more, check out: How Much Does it Cost to Use a Channel Manager?
To find the best Channel Manager for your accommodation business, browse our curated, regularly updated List of the Top 10 Best Channel Manager Software.
---
---
Article written by

HotelMinder
HotelMinder is a hospitality consulting agency providing services in operations, strategy, digital marketing and technology to independent Hotels.
---
Browse Academy
---
Find the best technology and expert services for your hotel business.
---
Read more on HotelMinder Academy
All the knowledge you need to transform your hotel's digital presence and maximize performance!
Work with us to upgrade your hotel,
maximising revenue & efficiency!

We Assess

We evaluate objective(s), defining opportunities and setting goals.

We Plan

We make a plan detailing what should be done to help reach set goals.

We Do

We implement change, as planned, within set timeline and budget.